Academic Grants, Conferences, and more in this issue!





SME

eNews November 7, 2019

Faculty Grant Application Period Opens December 1



The application period for the SME Ph.D. Fellowship and Academic Career Development Grants will run December 1, 2019 – January 31, 2020. The program was implemented to address the long-term sustainability of U.S. mining engineering, mineral processing and extractive metallurgy programs, and particularly the declining number of senior faculty members teaching those programs.

Large supporters of the program include Freeport-McMoRan, Caterpillar Global Mining, R.G. Dewey, Kinross Gold, Stantec McIntosh Fund, Royal Gold, Robert S. Shoemaker & Family, and Boart Longyear. Numerous smaller contributions have been received by many other supporters.

Grants ranging from $60,000 to $100,000 are awarded annually. The directives of the program are:


Career Development Grant

- provides assistant or associate professors with the resources necessary to achieve promotion and tenure

.

Ph.D. Fellowship Grant - provides financial support to Ph.D. candidates with industry experience and a desire to pursue an academic career with the means of acquiring a doctoral degree.

Be sure that your headlights are clean, especially when driving at dusk since it is getting dark sooner. Headlights tend to yellow as cars get older—it is suggested that the best way to clean them is with Ultrabrite toothpaste and water.
Provided by Charles Zimmerman, Caterpillar Inc.

Make your plans to connect with mining's professionals at the
MineXchange
2020 SME Annual Conference & Expo in a vibrant exchange of information, ideas and products. As a four-day interdisciplinary educational experience – including a premier three-day, technical program – the SME Annual Conference & Expo is widely recognized as the most distinguished forum for the publication of multidisciplinary mining research. Join thousands of your peers at the premier event for the mining and metallurgy industry.
Cutting Edge Conference
November 19-20 | Miami, Florida





From the East to the West Coast, North America's tunneling industry is flourishing. In 2019, the eighth annual Cutting Edge Conference convenes in Miami to examine the latest advances in tunneling technology, its methodology and how they can be harnessed to assist the nation's major upcoming underground projects. This unique conference has been designed to be a forum where industry leaders come together to discuss these challenges and share practical experiences on topical issues with a view to furthering the industry as a whole.



Arizona Conference
December 8-9, 2019 | Tucson, Arizona

SHORT COURSE
Mining Disclosure Essentials:
NI 43-101 Reporting Requirements and Avoiding the Fatal Flaw
Sunday, December 8, 2019 | 8:30 am - 4:00 pm
Craig Waldie, Senior Geologist, Ontario Securities Commission

This short course will provide mining industry practitioners with an opportunity to learn the essentials of technical disclosure under NI 43-101 directly from the regulator. Common public reporting pitfalls and challenges at various stages in the development of a mineral project from exploration to production will be covered using practical examples.
WORKSHOP
Developing Diversity and Inclusion in the Mining Industry
Sunday, December 8, 2019 | 1:00 pm – 5:00 pm
Women In Mining (WIM) Arizona Chapter and Industry Panelists from Freeport-McMoRan, Newmont, Caterpillar Inc., and others explore key challenges facing mining companies. The goal of the workshop is to support and encourage individuals and organizations who wish to increase diversity and inclusion within their workplaces and the mining industry overall.

At the MineXchange 2020 SME Annual Conference & Expo in Phoenix, AZ


Don't miss the SME Foundation Benefit Truck Raffle to win a 2020 GMC Sierra 2500 Crew Cab 4WD SLT Diesel truck with upgraded leather bucket seats (or equivalent). A special Tailgate Party drawing will be held on Wednesday, February 26, 2020, at 12:45 pm on the Expo floor. One lucky winner will be driving home in style, although you need not be present to win.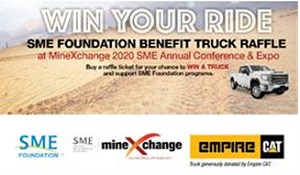 Purchase your tickets online at accelevents.com/e/smeftruck, or text Raffle to 205-619-3065. Ticket price is one (1) for $30.00, or four (4) for $100.00. Buy your tickets early as there are only 5,000 tickets available.

We thank Empire CAT for generously donating the truck for the SME Foundation Benefit Truck Raffle. All proceeds raised from this raffle go to support the SME Foundation programs.




We are now offering a Certified Mine Safety Professional (CMSP) credential review course. Prepare for the CMSP Exam by registering for this three-day course designed to provide a high-level review of the CMSP Body of Knowledge.

November 14 - 16, 2019 | Denver, CO
7:00 AM – 4:00 PM Daily
Held at SME Headquarters

February 21 – 23, 2020 | Phoenix, AZ
7:00 AM - 4:00 PM Daily
Held at MineXchange 2020 SME Annual Conference & Expo




To kick things off at the SME AZ Conference, the annual Diggers & Duffers Golf Tournament will be held Saturday, December 7th on the world famous links at the JW Marriott Star Pass Resort golf course. The proceeds from this tournament will offset travel expenses and registration for SME Student Chapter members who would like to attend the MineXchange 2020 SME Annual Conference & Expo.

Will you be in the Cincinnati area and do you want to lend a helping hand? We are ready to give out 1,000 rock and mineral kits to teachers attending the National Science Teaching Association Area Convention next week in Cincinnati. After that, we will be in Seattle December 12 – 14. We need your help there too.

Contact Tanya at

kriss@smenet.org

to come by for a few hours or for a day!

Theme: Mining Matters: Stewardship, Innovation, Safety
Deadline: January 13, 2020



This year's theme is "Mining Matters: Stewardship, Innovation and Safety". Share your best photos that exemplify these traits and show how mining matters both inside and outside the industry.

Submissions will be accepted through Monday, January 13th, 2020. All submissions must be made online using the online submission form. Each participant may submit up to three (3) images for consideration. Open to all industry members, no conference registration required.


Move Mining Submissions Due Soon
The deadline is quickly approaching! Move Mining submissions are due November 20. It's not too late! See
www.MoveMining.org
for all of the details.

Who will go on to the live event competition and a chance to win $5,000?
Boots, Bowties & Bling in Phoenix, AZ
Please join us in the Grand Canyon State for the "Boots, Bowties & Bling" 2020 SME Foundation Annual Gala Dinner and Silent Auction to be held on Sunday, February 23 - 6:00-11:00 pm at the Sheraton Phoenix Downtown. Purchase your tickets

when you register for MineXchange 2020 SME Annual Conference & Expo in Phoenix, AZ.
Society for Mining, Metallurgy & Exploration Inc.

(303) 948-4200 |

cs@smenet.org